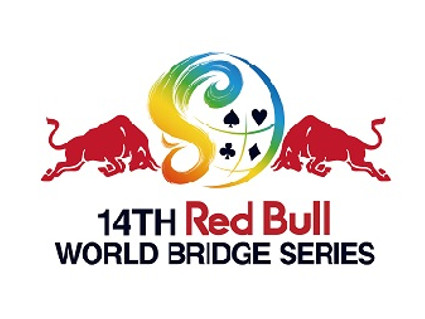 14th Red Bull World Bridge Series, Sanya, China
By Anna Gudge In Archive, Event update, News On 25th October 2014
---
The 14th Red Bull World Bridge Series was held in Sanya, Hainan, China from 10th to 25th October 2014 hosted by the Chinese Contract Bridge Association in cooperation with Sanya City and Beijing Lianzhong Co., Ltd.
Download a full list of medallists and other information about the results from Sanya
The first week saw the Mixed Teams Championships, followed by the Mixed Pairs.
The Mixed Teams was won by Team SALVO: Anita Sinclair – Captain, Sabine Auken, Zia Mahmood, Marion Michielsen, Roy Welland, Nafiz Zorlu pictured right.
The Silver Medal went to Team GEELY AUTOMATIC: Shen Yue Gui Captain, Wen Fei Wang Coach, Shen Yue Gui, Liping Wang, Jianming Dai, Yu Zhang, Lixin Yang, Hongli Wang
Joint Bronze medals were awarded to Team SAIC: Rong Huang Captain, Jihong Hu Coach, Mao Yuan Hu, Zejun Zhuang, Weimin Wang, Wen Fei Wang, Yi Qian Liu, Yong Mei Zhou and Team ROSSARD: Martine Rossard, Jerzy Romanowski, Danielle Avon, Jean-Michel Voldoire, Wojciech Gawel, Grazyna Brewiak, Martine Rossard – Captain
The Mixed Pairs which followed was won by Kerri Sanborn and Jie Zhao (USA-China), with the silver medal going to Jacek Pszczola and Meike Wortel (USA – Netherlands) and Nan Wang playing with Bangxiang Zhang (China) took the Bronze Medal. The B Final was won by Ronnie Barr and Eldad Ginossar (Israel)
Three world champions were crowned in Sanya on Thursday 23rd October, as the Polish team led by Marcin Mazurkiewicz (Piotr Gawrys, Stanislaw Golebiowski, Krzysztof Jassem, Michal Klukowski, Marcin Mazurkiewicz, Wlodzimierz Starkowski, Marcin Mazurkiewicz) soundly defeated Monaco to win the Rosenblum Cup (Open Teams), the Lynn Baker team (Lynn Baker, Karen McCallum, Sally Brock, Nicola Smith, Meike Wortel, Marion Michielsen, Cenk Tuncok Captain), beat China Red for the McConnell Cup (Women's) and the Reese Milner squad (Reese Milner, Hemant Lall, Apolinary Kowalski, Michel Bessis, Jacek Romanski, Philippe Cronier) defeated Jim Sternberg and company in the Rand Senior Teams.
---