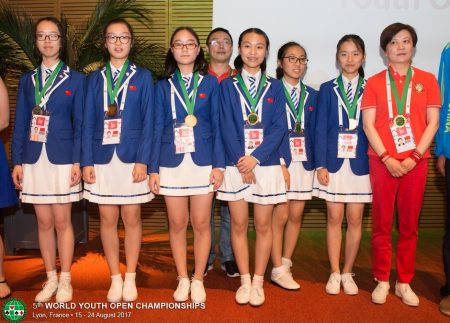 1. Shengxing Team 1 (Yunpeng Chen, Chenyun Ge, Yajie Lu, Yijia Lu, Xinyao Ruan, Jiaming Xu, Xiaochen Kong cng)
2. France 1 Girls (Helene Besancon, Helene Chelin, Sarah Combescure, Marie-Valentine Coupel, Emeline Jounin, Mathilde Thuillez, Wilfried Libbrecht cng)
3. Sh Xin Jiangnan Team (Yueling Gu, Shiyi Li, Shiyun Mao, Yanting Mao, Yici Wang, Xiaotong Wu, Yi Xing Lv Cng)
To check all the information of this championship click here

1. ITALY: Flaminia Tanini, Agnese Di Mauro, Giulia Scriattoli, Caterina De Lutio, Michela Salvato, Susanna Broccolino, Emanuela Capriata (NPC).
2. SX XHLD: Huiyuan Jin, Aijia Yuan, Yunpeng Chen, Chenyun Ge, Yue Yu, Xinyao Ruan, Weichang Qiu (NCP).
3. CHINA RDFZ GIRLS: Guangli Wendy Liu, Mengqi Hao, Lingyi Ma, Xinyi Luo, Qi Xia, Ling Hu, Jichao Hu (NPC), Tong Jiang (Coach).
The 2015 Youth Open Bridge Championships were held once again in Opatija, which is proving an excellent and very popular bridge venue.
To check all the information of this championship, please click here.