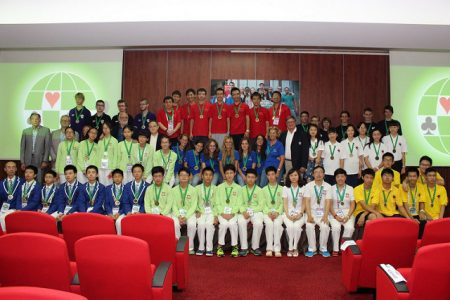 The 2015 Youth Open Bridge Championships, were held in Opatija (Croatia), which is proving an excellent and very populare venue.Yet another categroy was introduced, the Kids event and was a resounding success. 13 pairs took part in the first Kids Teams event.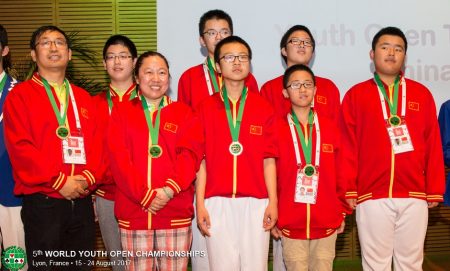 1. China RDFZ Galaxy (Zhenhao Cai, Jingfan Chen, Yuanzhe Niu, Zhaofeng Wang, Boxin Zhang, Fangchen Zhao, Jichao Hu Cng, Jie Li coach)
2. Shengxing Venus (Haochen Liu, Yizhou Liu, Mingyu Lu, Ruicheng Mao, Tianle Yao, Zhaochen Yu, Gongjun Liu cng)
3. Shengxing Saturn (Licong Cheng, Penghao Wang, Ruizhe Wang, Yingqi Wang, Hao Xu, Jiahao Yang, Qin Liu cng)
To check all the information of this championship click here

1. SX HYSW: Yingqi Wang, Tianle Yao, Siyuan Liu, Renyu Li, Yijun Shang, Yiqin Shao, Wen Cao (NPC), Lin Lin (Coach).
2. CHINA RDFZ1: Zixi Cai, Yuanzhe Ding, Randy Pan, Baozhuo Jiang, Shi Qiu, Haoqing Yu, Jichao Hu (NCP), Tong Jiang (Coach).
3. SX XNWY: Yihong Liu, Wenjie Xue, Ruizhe Wang, Hanyang Dai, Jiaxin Tong, Tiancheng Zhang, Qiwei Li (NPC), Hui Fu (Coach).