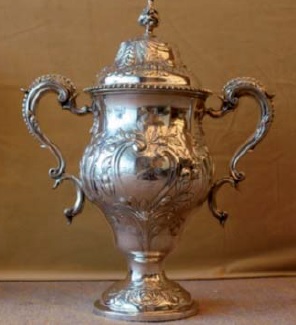 The Rosenblum Cup is a transnational open teams event held during the World Bridge Series. It was named in the honour of Julius Rosenblum, the fourth WBF President (1970-1976), who had passed away five months before the first edition of this event. The format includes a swiss phase followed by a knock-out.
1. NICKELL: Eric Greco, Geoff Hampson, Ralph Katz, Bobby Levin, Nick Nickell, Steve Weinstein (USA), Jill Levin (NPC).
2. VENTIN: Joaquín Pacareu (Chile), Guy Mendes de Leon, Thibo Sprinkhuizen (Netherlands), Antonio Palma (Portugal), Juan Carlos Ventín (Spain), Frederic Wrang (Sweden).
3. ROBINSON: David Gold (England), David Berkowitz, Daniel Korbel, Zia Mahmood, Jeff Meckstroth, Eric Robinson (USA).
3. TEAM BLACK: Andrew Black, Gunnar Hallberg, Andrew McIntosh, Thomas Paske (England), Peter Bertheau, Simon Hult (Sweden).
To check all the information of this championship, please click here.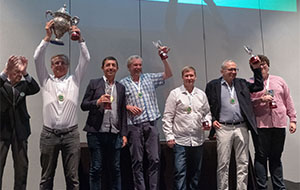 1. ZIMMERMANN: Piotr Gawrys (Poland), Geir Helgemo (Monaco), Tor Helness (Monaco), Michal Klukowski (Poland), Franck Multon (Monaco), Pierre Zimmermann (Monaco).
2. LAVAZZA: Alejandro Bianchedi (Italy), Dennis Bilde (Denmark), Norberto Bocchi (Italy), Giorgio Duboin (Italy), Agustin Madala (Italy), Antonio Sementa (Italy), Maria Teresa Lavazza (npc) (Italy), Massimo Ortensi (coach) (Italy).
3. ALLFREY: Alexander Allfrey, Edward Jones, Thomas Paske, Andrew Robson (England).
3. SPECTOR: Vincent Demuy, John Hurd, John Kranyak, Warren Spector, Gavin Wolpert, Joel Wooldridge, Warren Spector (pc) (USA).
To check all the information of this championship, please click here.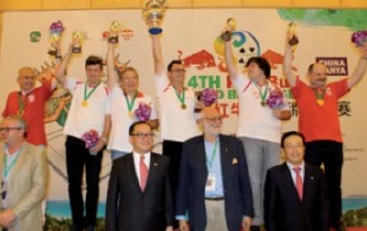 Held in the wonderful resort of Sanya in Hainan this was a very enjoyable and successful Championships sponsored by Red Bull, normally a champion of extreme sports.
Michal Klukowski is only on his second world title, after the under-20 championship in 2012, but he is only eighteen – by far the youngest Open World Champion ever!
Geir Helgemo and Tor Helness now have a full set of Rosenblum medals, silver here after gold in Verona and bronze in Philadelphia.
123 teams entered for the Rosenblum Cup:
1. MAZURKIEWICZ: Marcin Mazurkiewicz (Captain), Piotr Gawrys, Stanislaw Golebiowski, Krzysztof Jassem, Michal Klukowski, Wlodzimierz Starkowski (Poland).
2. MONACO: Pierre Zimmermann (Captain), Fulvio Fantonl, Geir Helgemo, Tor Helness, Franck Multon, Claudio Nunes (Monaco).
3. DIAMOND: John Diamond (Captain), Eric Greco, Geoff Hampson, Brian Platnick (USA), Sjoert Brink, Bas Drijver (Netherlands).
3. VENTIN: Juan Carlos Ventin Camprubi (Captain, Argentina), Sabine Auken, Roy Welland (Germany), Johan Upmark, Frederik Wrang (Sweden).
To check all the information of this championship, please click here.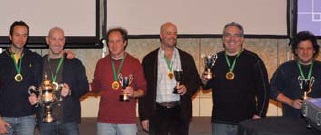 The Philadelphia Championship was given a new title – the World Bridge Series.
In the Rosenblum Teams: the entry was 144 teams. The top 4 teams from each of 16 groups of 10 or 11 teams would qualify for the 64-team knockout phase.
1. DIAMOND: John Diamond, Fred Gitelman, Eric Greco, Geoff Hampson, Brad Moss, Brian Platnick.
2. NICKELL: Bob Hamman, Ralph Katz, Zia Mahmood, Jeff Meckstroth, Nic Nickell, Eric Rodwell.
3. ZIMMERMANN: Fulvio Fantoni, Geir Helgemo, Tor Helness, Frank Multon, Claudio Nunes, Pierre Zimmerman.
To check all the information of this championship, please click here.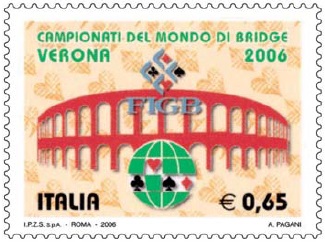 For the first time, all events at the World Bridge Championships were transnational.
A special dedicated stamp was issued by the Italian Postal Service on the occasion of the event.
Verona, with its monuments, history and tradition hosted a superb event. Magnificent was the Opening Ceremony at Gran Guardia Palace and memorable the Aida, directed by Franco Zeffirelli at l'Arena. The Championship has been attended by several notable people such as Bill Gates, Edma Castro, Antoine Bernheim. The players really enjoyed their stay.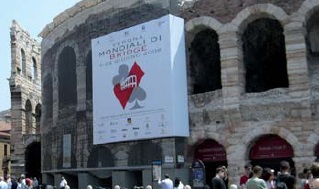 The entry of 173 teams in Rosenblum Cup was up slightly from the "perfect" 160 in Montreal in 2002. The top 4 teams from each of 16 groups of 10 or 11 teams would qualify for the 64-team knockout phase.
1. MELTZER: Roger Bates, Geir Helgemo, Tor Helness, Kyle Larsen, Rose Meltzer, Alan Sontag.
2. HENNER-WELLAND: Peter Bertheau, Peter Fredin, Christal Henner-Welland, Marc Jacobus, Magnus Lindkvist, Fredrik Nyström.
3. YADLIN: Eldad Ginossar, Avi Kalish, Melih Ozdil, Leonid Podgur, Doron Yadlin, Israel Yadlin.
68 teams entered the Swiss Teams Plate.
This was a one-day Swiss event, scored on Victory Points, open to teams that did not qualify in the round-robins of the Rosenblum Cup and McConnell teams. The medalists were:
1. Angelini Junior: Irene Baroni, Giuseppe Delle Cave, Simon Fellus, Arrigo Franchi, Federico Iavicoli, Matteo Montanari.
2. Drenkelford: Herman Drenkelford, Willem van Eijck, Rene Hermans, Michel Jialal, Fred de Wilde.
3. Rogoff: John Carroll, Tommy Garvey, Barry Rigal, Bruce Rogoff.
To check all the information of this championship, please click here.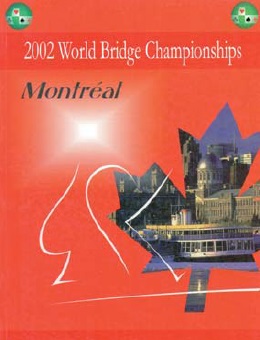 The 2002 Championships were held in Montreal (Canada) where entries were considerably lower than on the previous occasion in Lille.
160 Open teams entered the Power Rosenblum Cup.
The qualifying stage was 16 seeded 10-team sections, playing a complete round robin of 20-board matches over three days.
Following the round-robin segments, 64 teams qualified for the Knock-Out phase.
The winners were:
1. LAVAZZA TEAM: Maria Teresa Lavazza (NPC) – Norberto Bocchi – Giorgio Duboin – Guido Ferraro – Lorenzo Lauria – Alfredo Versace (Itay).
2. MUNAWAR TEAM: Munawar Sawiruddin (NPC) – Taufik Absi – Franky Karwur – Henky Lasut – Eddy Manoppo – Denny Sacul – Robert Parasian (Indonesia).
3. POLAND: Cezary Balicki – Leandro Burgay – Michal Kwiecien – Carlo Mariani – Jacek Pszczola – Adam Zmudzinski (Poland).
In the Zonal Open Teams, the winners were Morath (Sweden): Anders Morath, Tommy Bergdahl, Bengt-Erik Efraimsson, Tomas Brenning, Sven-Olov Flodqvist, Lars Andersson.
The Solomon Trophy went to the United States Bridge Federation, with Italy second and France third.
To check all the information of this championship, please click here.
1. ANGELINI (Italy): Francesco Angelini, Antonio Sementa, Lorenzo Lauria, Alfredo Versace, Andrea Buratti, Massimo Lanzarotti.
2. CHAGAS (Brazil): Gabriel Chagas, Marcelo Branco, Miguel Villas-Boas, João Campos.
The losing semi-finalists, Bramley (USA) and Lindkvist (Sweden) shared the bronze medal.
The 1998 Championships were held in Lille, France, and the many different events produced a record attendance and an exceptional tournament. For the first time a Junior Triathlon was included.
The Vivendi Rosenblum Cup had a record entry of 234 teams. The field was initially divided into 16 groups playing a round robin within the group to determine the teams to go through to the knockout stages.
To check all the information of this championship, please click here.
1. Roger Bates – Seymon Deutsch – Gaylor Kasle – Chip Martel – Michael Rosenberg – Lew Stansby (USA).
2. Cezary Balicki – Marek Borewicz – Piotr Gawrys – Krzysztof Lasocki – Edwin Otvosi – Adam Zmudzinski (Poland).
3. Daniel Auby – Tomas Brenning – Tommy Gullberg – Mårten Gustavson (Sweden).
3. Dany Cohen – Avi Kalish – Yeshayahu Levit – Leonid Podgur (Israel).
The 1994 NEC World Bridge Championships were held in Albuquerque (USA). 158 teams entered the NEC Rosenblum Cup.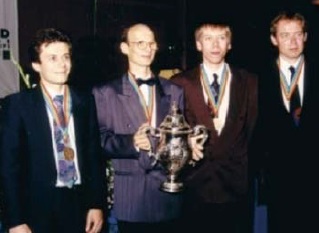 This marked the first championship to be organised entirely by the WBF under the leadership of José Damiani, while Jaime Ortiz-Patiño, President Emeritus, guaranteed the financial viability of the event.
The World Knockout Teams sponsored by Louis Vuitton had a record 195 teams. Sixteen teams were seeded through to the second round while the remaining teams were split into groups of 11 or 12 teams playing a round robin over two days with seven teams to qualify. For the second stage, the survivors were grouped into eight to play a further round robin with four teams to qualify, reducing the field to 64 teams for the next stage. The third stage was another round-robin reducing the field to 32 teams when the knockout began. Two 32-board matches reduced the field to just eight teams.
In the semi-final, the two remaining USA teams, captained respectively by George Rapée and Mike Moss, had to play each other. Moss won comfortably (176-134).
The other match featured Canada against a German team captained by Bernhard Ludewig, a match that went right down to the wire, Germany winning by 3.
In the final the German team of Bernhard Ludewig, Jochen Bitschene, Georg Nippgen and Roland Rohowsky (picture) defeated Moss, Charles Coon, Michael Seamon and Drew Casen by just 13 IMPs.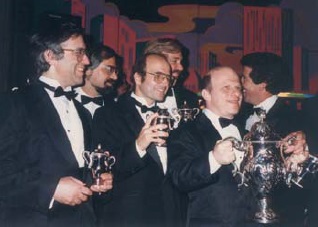 The Championships were restructured taking on an intricate, yet at the same time, more unified form and saw the first use of the name "World Bridge Championships" to describe the four-year cycle of WBF events.
Bal Harbour also marked the first step in opening up these contests by enabling a wider group to earn places in main events by entering a preliminary stage. To provide stronger continuity, the various stages of the events were linked more closely by extending the repechage principle.
Another new feature provided additional linkage: high achievement in one event could confer exemption from a preliminary stage of the next.
In the World Knockout Teams, the winners (357-207) were the United States, represented by Steve Robinson (Captain), Peter Boyd, Bob Lipsitz, Ed Mansfield, Neil Silverman, Kit Woolsey (picture). The losers of the 128-board final were Pakistan with Zia Mahmood (Captain), Jan-e-Alam Fazli, Nisar Ahmed and Nishat Abedi.
Sweden, with Björn Fallenius (Captain), Magnus Lindkvist, Mats Nilsland and Andrew Wirgren, finished at the top of the Swiss to take third place overall.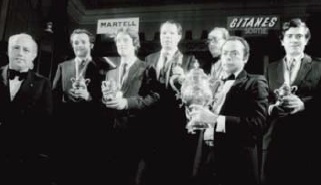 For the second running of the World Knockout Teams there was a starting field of 129, reducing to 96 via a preliminary round of short matches held on the first afternoon.
Some were four-way with three survivors, others three-way with two survivors.
Next came the knock-out stages, together with the Swiss in the same format as that staged in New Orleans, albeit with double the number of starters. WBF Master Point rankings were used in some degree to help to determine the draw.
After five knockout rounds of 32-board matches, one undefeated team remained in each of the three brackets, captained by Pierre Schemeil (France), Jim Zimmerman (USA), and Luca de Tena (Spain). Together with the winner of the Mini-knockout, captained by Chip Martel, these played off the 60-board semi-final matches, where Martel beat Zimmerman by 189 to 66 and Schemeil beat de Tena by 137 to 98.
The final, over five 16-board segments, was close all the way, Schemeil winning for France (picture) by 178-161.
His team members were Albert Faigenbaum, Michel Lebel, Dominique Pilon, and Philippe Soulet. Thus for the second time, this severe test of stamina was won by a four-man team!
Also displaying great endurance on the runner-up team were the World Open Pairs winners, Chip Martel and Lew Stansby with Peter Pender, Hugh Ross, Ed Mansfield and Kit Woolsey.
1. POLAND: Marian Frenkiel, Andrzej Macieszczak, Janusz Polec and Andrzej Wilcosz
2. BRAZIL: Pedro Paulo Assumpção, Sergio Barbosa, Marcelo Branco, Gabino Cintra, Gabriel Chagas and Roberto Taunay
The 1978 Championships, held in New Orleans, saw the successful inauguration of a major event: the World Knockout Teams Championship for the Rosenblum Cup, named in the honour of Julius Rosenblum, the former WBF President who had died five months earlier. It attracted 64 teams.
The format was based on the repechage principle, borrowed from the sport of rowing.
Eliminated teams from the 32-board knockout rounds entered a Swiss teams, run concurrently with the continuing knockout round with the prospect of re-entry to the main Championship.
The three divisions of the knockout, organised on a geographical basis, each produced a semi-finalist. The fourth semi-finalist came as a result of a playoff (Mini knockout) among the three last losers in the knockout and the top five teams from the Swiss.
The three KO-divisions semi-finalists were France, USA and Brazil. Successful in the Swiss was a four-man Polish squad. In the semi-finals Poland beat France and Brazil beat USA.
In the 64-board final, the winners by 164-80 were Poland.