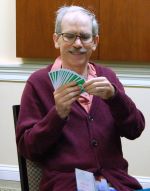 Chip Martel  is a World Grand Master, a member of the ACBL hall of fame, and one of the few people to have won the Bermuda Bowl (4 times), the World Open Pairs (youngest to ever win it in 1982), and the Rosenblum Teams.  He has also won over 30 North American Bridge Championships and the World Seniors championships.
He learned bridge from his parents as a child, and started playing seriously in high school.
Bridge didn't completely distract him from his studies: Chip earned a B.S. in Computer Science from MIT and a Ph.D. from UC Berkeley. His time in Berkeley was quite eventful as he started his partnership with Lew Stansby there and found his soulmate Jan Martel (and fellow Bridge Hall of Famer). After graduating, he became a Professor in the Computer Science department at the University of California at Davis, which he helped found, and he chaired the department for several years. Chip retired in 2012 but is still active in the department.
In bridge administration, Chip was chair of the ACBL laws committee for over 20 years and has served for many years on the WBF systems and Laws committees. He was selected to serve on WBF executive committee in 2023.
Chip has also written articles for The Bridge World and Bridge Today.