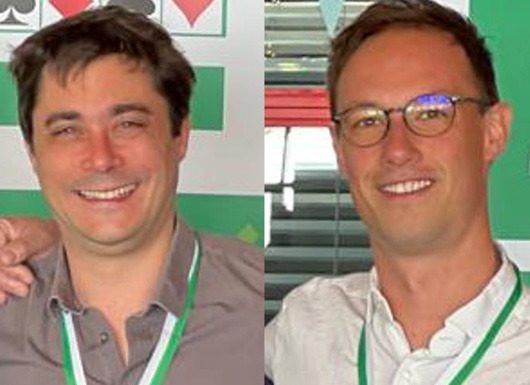 WBT News !
By WBF In Event update, News On 2nd August 2023
---
31 July
The Summer NABC in Chicago is now over. I had expected many American partnerships to make strong moves up the ranking – some did, but not as many as expected. The fact is that there are many non-American top professional partnerships playing the ACBL Nationals these days, and they did very well last week.
With their win in the Spingold on the Fleisher team Bessis & Lorenzini and team mates Sementa & Versace kept their positions as first and second respectively in the ranking. No other partnership assembled that many points in Chicago, so they extended their lead over the chasing field. Brink & Drijver placed third/fourth in the Spingold and moved up from sixth to third place in the rankings. After solid performances Rombaut & Rombaut moved up to fourth. Donati & Percario did slightly better than Auken & Welland and overtook them into fifth, while the latter remained in sixth place.
Among the American partnerships the biggest movers were Brian Platnick & Kevin Rosenberg, Finn Kolesnik & Roger Lee, Kevin Bathurst & John Hurd and Vincent Demuy & John Kranyak. However, Joe Grue & Brad Moss still remain the highest ranked American partnership in eighth, just behind Bakke-Brogeland of Norway.
Other very strong performers among the top 20 were Nabil Edgtton & Michael Whibley, Antonio Palma & Frederic Wrang, Alon Birman & Dror Padon, David Gold & Zia Mahmood, Denis Bilde & Agustin Madala and Piotr Gawrys & Michal Klukowski.
The next stop on the Tour is Örebro in Sweden for the Chairman's Cup, which is followed by the World Championships in Marrakech.
---