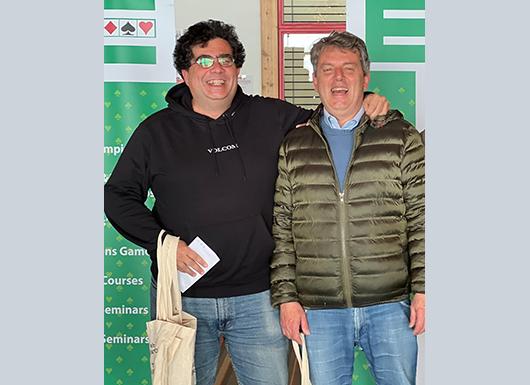 New leaders in the World Bridge Tour
By WBF In Event update, News On 4th May 2023
---
After some great results in the latest events on the WBT calendar, the European Winter Games in France and the Schapiro Spring Fours in England, we have a new partnership on top, namely Italian stars Antonio Sementa & Alfredo Versace. They are followed by youngsters Giovanni Donati & Giacomo Percario, pushing down previous leaders Joe Grue & Brad Moss, who didn't play in either of those events, into third place. Slowly closing in on the leading three, in fourth to sixth place we now find Thomas Bessis & Cedric Lorenzini, Mikael & Ola Rimstedt and Sjoert Brink & Bas Drijver respectively.
Without disrespect to those following – What a top 6!
You can get directly to the full current ranking by clicking here. There are almost 400 partnerships in the ranking already!
Next up are the Marit Sveås International Pairs in Norway (with a large prize purse) and the Budapest Open Teams.
More information about this exciting event can be found here.
---