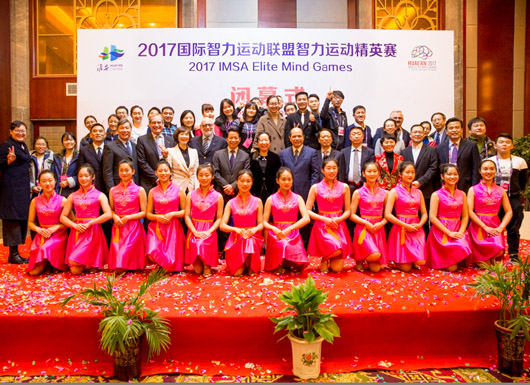 2nd IMSA Elite Mind Games – Results
By Anna Gudge In Archive, Event update, News On 19th December 2017
---
Below the list of medallists at the 2nd IMSA ELITE MIND GAMES, held in Huai'an, China:
Individual
In the Open, Jianwei Li  had no problems in holding on to his lead – indeed he increased it, finishing with 58.41%, giving China another gold medal. Second place went to his compatriot, Lixin Yang, who scored 55.94%. Herve Vinciguerra joins them on the podium with 54.49% .
In the Women's Individual there was more joy for our hosts, as China's Qi Shen secured the gold medal with 56.38%. The runner-up – the second time this week – was England's Sally Brock, her total of 55.80% moving her into the medals. Third place went to Yan Huang, with 54.93%.
Pairs
China took both gold medals in the Pairs Championships. Yunlong Chen and Zhao Jie won the Open Pairs from compatriots, Jianming Dai and Lixin Yang, with Jerome Rombaut and Vanessa Reess of France taking the bronze medals.
The Women's Pairs was won by Wenfei Wang and Qi Shen of China, with Sally Brock and Fiona Brown of England taking the silver medals and Kerri Sanborn and Hjordis Eythorsdottir winning the bronze medals for the USA.
Teams
France trailed China at the midpoint of the final session but swings of 13, 14 and 15 IMPs in quick succession clinched the title as they closed out the match by 109-88 IMPs. Congratulations to Thomas Bessis, Marc Bompis, Herve Vinciguerra, Cedric Lorenzini, Jerome Rombaut and Vanessa Reess. Bulgaria defeated USA by 160-85 IMPs in the third-place play-off.
The lead changed hands several times as Sweden and England battled for supremacy in the Women's final, with Sweden finally coming out on top by 115-95 IMPs. Congratulations to Kathrine Bertheau, Sanna Clementsson, Ida Gronkvist, Jessica Larsson, Cecilia Rimstedt and Sandra Rimstedt.
USA defeated China by 118-88 in the third-place play-off.
You can check all the info related to the 2nd IMSA ELITE MIND GAMES at http://db.worldbridge.org/repository/tourn/huaian.17/microsite/Results.htm
---