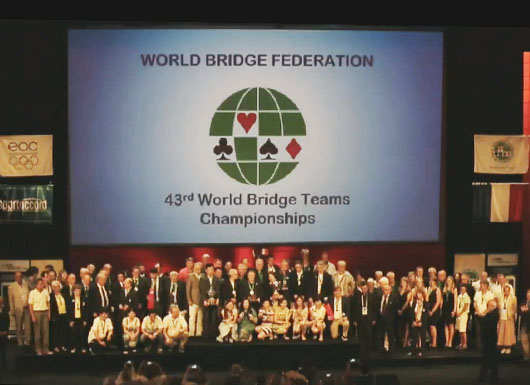 43rd World Bridge Teams Championships: the Winners
By Anna Gudge In Archive, Event update, News On 26th August 2017
---
The 43rd World Bridge Team Championships and the 11th FunBridge World Transnational Open Teams ended tonight. 
The two events were held at La Cité Internationale de Lyon from August 12th (World Team Championships) and August 21st (World Transnational Open Teams) to August 26th.
Bermuda Bowl Winners:
1. USA2 (Martin Fleisher, Joe Grue, Chip Martel, Brad Moss, Jacek Pszczola, Michael Rosenberg, Jan Martel npc)
2. France (Thomas Bessis, Francois Combescure, Cedric Lorenzini, Jean-Christophe Quantin, Jerome Rombaut, Frederic Volcker, Lionel Sebbane npc)
3. Bulgaria (Victor Aronov, Diana Damianova, Georgi Karakolev, Vladimir Mihov, Ivan Nanev, Julian Stefanov, Victor Aronov pc, Marta Nikolova coach)
Venice Cup Winners:
1. China (Yan Huang, Yan Liu, Yan Lu, Qi Shen, Nan Wang, Wen Fei Wang, Jianxin Wang npc, Xiaojing Wang coach)
2. England (Sally Brock, Fiona Brown, Catherine Draper, Sandra Penfold, Nevena Senior, Nicola Smith, Derek Patterson npc, David Burn coach)
3. Sweden (Pia Andersson, Kathrine Bertheau, Ida Gronkvist, Emma Ovelius, Cecilia Rimstedt, Sandra Rimstedt, Kenneth Borin npc, Carina Wademark coach)
D'Orsi Trophy Winners:
1. USA2 (Michael Becker, David Berkowitz, Allan Graves, Neil Silverman, Alan Sontag, Jeff Wolfson, Steve Garner npc)
2. Italy (Andrea Buratti, Amedeo Comella, Giuseppe Failla, Aldo Mina, Ruggero Pulga, Stefano Sabbatini, Pierfrancesco Parolaro npc)
3. Sweden (Mats Axdorph, Christer Bjaring, Sven-Ake Bjerregard, Bengt-Erik Efraimsson, Anders Morath, Johnny Ostberg, Tommy Gullberg npc, Carina Wademark coach)
FunBridge World Transnational Open Teams Winners:
1. Mazurkiewicz (Piotr Gawrys, Krzysztof Jassem, Michal Klukowski, Marcin Mazurkiewicz)
2. Jinshuo (Tong Jiang, Chuancheng Ju, Jacek Kalita, Michal Nowosadzki, Zheng Jun Shi, Xiaofeng Zhang, Dade Wang npc )
3. Percy (Peter Crouch, David Gold, Zia Mahmood, Marion Michielsen, Andrew Robson, Anita Sinclair)
Catherine Draper, Yan Huang, Martin Fleisher and Thomas Bessis became World Grand Masters.
CLICK HERE to check all the information about the event
---