17th World Youth Bridge Teams Championship
By Anna Gudge In Archive, Event update, News, Youth On 25th May 2017
---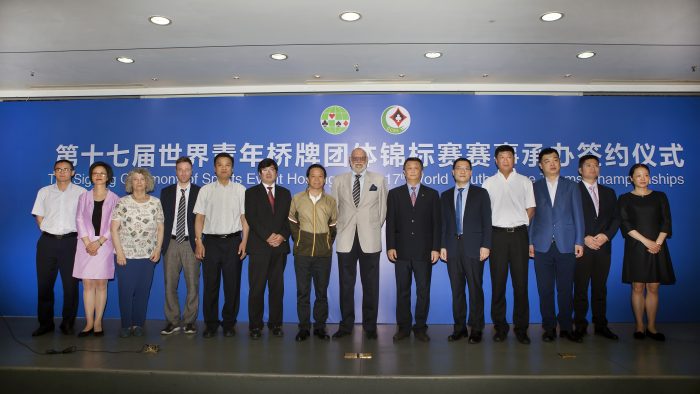 On 24th and 25th May, the WBF President Gianarrigo Rona met the CCBA Vice President Ge Feng, the Deputy Director General of Jangsu Sports Bureau Yan Zhengming, the Deputy Chief of Wu Jiang District Tang Weiming and the representatives of the LOC in Suzhou, Wu Jiang District, China. The meeting was held in order to define the details of the organisation of the 17th World Youth Bridge Teams Championship to be held at the Li Ze Culture and Sports Palace in Suzhou from Wednesday 8th to Saturday 18th August 2018.
The WBF Delegation, composed of President Rona, Secretary Simon Fellus and President's Assistant Marina Madia, was warmly welcomed by the Authorities and Organisers and the meetings were held in a great spirit of friendship.
On Wednesday 24th the delegation visited the venue, the magnificent Li Ze Culture and Sports Palace which offers a superb playing area and very comfortable annexed rooms to host the various services and the vu-graph. All the details of the organisation were discussed and defined with all parties being very satisifed with the result. The visit to the venue was concluded with an Official Dinner offered by Mr. Tang Weiming.
On the morning of Thursday 25th a significant and impressive Signing Ceremony of the Contract was held at the Wujiang Hotel. The Ceremony was attended by several journalists and photographers and  broadcast on television. After the speeches by Mr. Rona (attached below), Mr. Ge Feng, Mr. Yan Zhengming and Mr. Tang Weiming, both the Contracts between WBF and CCBA and between CCBA and Wu Jiang District were signed. After the Ceremony the delegation visited the wonderful  Lake Park, where a special outing will be organised for the Championship participants next year.

In the afternoon the delegation visited the hotels and Mr. Rona congratulated the LOC for their choice and the very favourable rates arranged.
---