International Scientific Conference – RECREATION AND JOY OF LIFE IN SENIORS – Toruń, Poland
By WBF In Archive, News On 22nd April 2017
---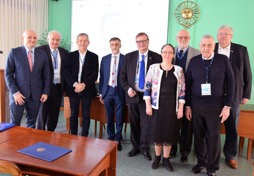 As already informed in a previous release, the Nicolaus Copernicus University of Torun, Poland organised on 20 and 21 April a Scientific Conference on "Recreational Activity and Joy in Senior's Life".
Very first in history a Scientific Conference introduced a section dedicated to bridge with the entire first day riserve to bridge and in particolar to the results of ther research about how bridge improves social life of elderly and about preventing dementias (Alzheimer mainly) by playing our game.
The Conference was opened by prof. Hanna Solarczyk-Szwec, Pro-rector and prof.Piotr Blajet of the Nicolaus Copernicus University.
The WBF President Gianarrigo Rona welcomed and addressed the participants, expressing the gratitude of the entire bridge family ton the Nicolaus Copernicus University for this remarkable iniziative, thanking prof. Marek Malysa for the efforts done in preparing and organising the Conference and Witold Stachnik, President of the Polish Bridge Union for his generous support.
The EBL President Yves Aubry introduced the works with a presentation of "Bridge a Sport for Life".
There were report from prof. Samantha Punch, University of Sterling, United Kingdom; prof. Thihana Brikijačić, Institute of Social Sciences Ivo Pilar, Croatia; prof. Helena Maria Barendregt, University of Maastricht, the Netherlands; prof. Paolo Walter Gabriele, University of Cassino, Italy; Roseline Barendregt, University of Bergen, Norway; prof. Emilia Leszkowicz, University of Gdańsk; prof. Tomasz Komendziński, University Nicolaus Copernicus, Torun; Eric Laurant, EBL Executive member; Marek Malysa, member of the WBF and EBL Seniors Committee; Anna Maria Hermanyi, Hungarian Bridge Federation.
Topics of the Conference
Bridge 60+ – Marek Malysa
Bridge and elderly a successful project in The Netherlands – Eric Laurant
Bridge and its Benefits to Society
Brighter, Smarter, Wiser. Distinction & Benefits of Mind Sports – Tihana Brkljačić
Contract Bridge and Senior Citizens, from Entertainment to Competition – Tihana Brkljačić
Effects of cognitive training in aging in MRIfMRI studies – Emilia Leszkowicz
Individual Wellbeing and Bridge – An Empirical Analysis
Sneak Teaching Bridge – Rosaline Barendregt
The Secrets of the Bridge Brain – Helena Barendregt
Brain Care & Aging – Paolo Walter Gabriele
---