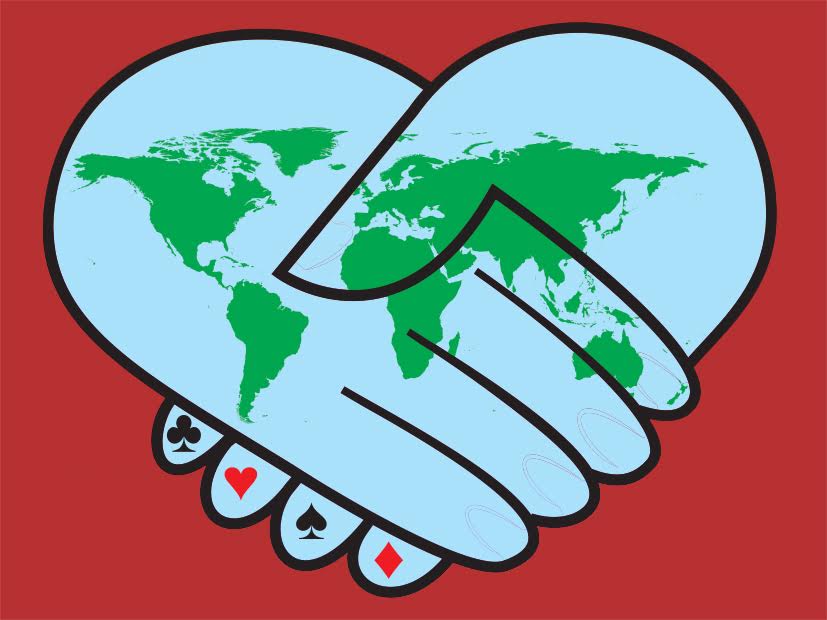 SportAccord World Mind Games
By Anna Gudge In News On 20th December 2013
---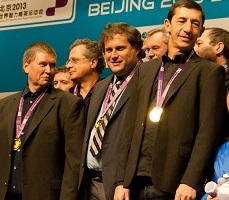 With a brilliant display of almost perfect bridge it was Monaco, represented by Fulvio Fantoni, Claudio Nunes, Geir Helgemo, Tor Helness, Franck Multon & Pierre Zimmermann (pictured left) who won the Men's Team Championship, defeating Poland's Adam Zmudzinski, Marcin Mazurkiewicz, Cezary Balicki, Krzysztof Buras, Krzysztof Jassem and Andrzej Narkiewicz. The bronze medals went to China, Zhang Bangxiang, Dai Jianming, Ju Chuancheng, Shi Haojun, Shi Zhengjun and Wang Weimin.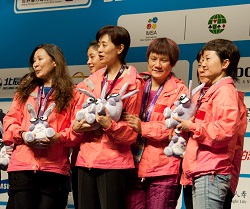 In a thrilling Women's final, China's Wang Wenfei, Feng Xuefeng, Zhang Yu, Wang Liping, Yan Ru and Liu Yan came and snatched victory from England's Sinéad Bird, Fiona Brown, Heather Dhondy, Sarah O'Connor, Susan Stockdale and Nevena Senior on the very last board, with the USA, Carole Miner, Cynthia Balderson, Lynn Deas, Hjördís Eythórsdóttir, Rozanne Pollack and Cheryl Bjerkan finishing third.
It was appropriate that each of the winning teams contained the Bridge Ambassadors here in Beijing, Fulvio Fantoni & Wang Wenfei.
Four Open and Four Women's Teams represented Bridge, which comprises Teams, followed by a Pairs and then an Individual Tournament. The event also showcases four other Mind Sports – Chess, Draughts, Go and Xiangqi.
Established in 2011 as an annual event, these Games are organized by SportAccord and comprise elite competitions in Bridge, Chess, Draughts, Go and Xiang Qi (Chinese Chess).
The WBF is very proud to announce that Fulvio Fantoni and Wang Wenfei (pictured left) have been appointed as Ambassadors for Bridge by SportAccord. Read more about it
In Bridge, top men and women players are invited to complete in teams, pairs and individual for attractive prize money.
Links on your left take you to the various pages for this year's event, and you can find additional information about this and the other featured disciplines on the MindSports Website
An online competition was run giving players a chance to win a trip to the Games.Leo LaSota won the open and Liang Fan is the winner of the junior prize. More information about these players
The SportAccord World Mind Games are organized very much in the ceremonial style of the Olympic Games, with emphasis on publicity and communication.
Bridge Bulletins of the 2012 SportAccord World Mind Games
Bridge Bulletins of the 2012 SportAccord World Mind Games
---