World Online Championship
World online championship

Bridge Base Online and Funbridge are excited to announce the launch of the first World Online Championship (WOC). This official international competition will be organised by the World Bridge Federation, the National Bridge Federations and the China Bridge Online platform (CBO).
A special day to launch the Championship will be held on Thursday 12th December.
Bridge Base Online and Funbridge will each organize a free daylong tournament with generous prizes.
To play on Bridge Base Online, visit https://www.bridgebase.com and click Login/Register (create a BBO account if you don't have one, it's free). To find the tournament, click Competitive, then Free Tournaments and look for the Biggest Online Bridge Tournament.
And to play on FunBridge,  just go to https://www.funbridge.com/  and click on the Play Bridge Now button … that will download the setup to your computer and give you instructions … if you click on Play a Tournament then click on Federation Tournaments (the last item on that list) it will give you a list of official tournaments, and you can register – the World Bridge Day is the first one on the list.
Come and join the fun !
And – just for all you IBPA members out there – there are special prizes for play in online events: Best Declarer Play, Best Defence and Best Bid hand so just get players to report a hand to you, write it up and submit it to the Editor of the IPBA Bulletin at : ibpaeditor@sympatico.ca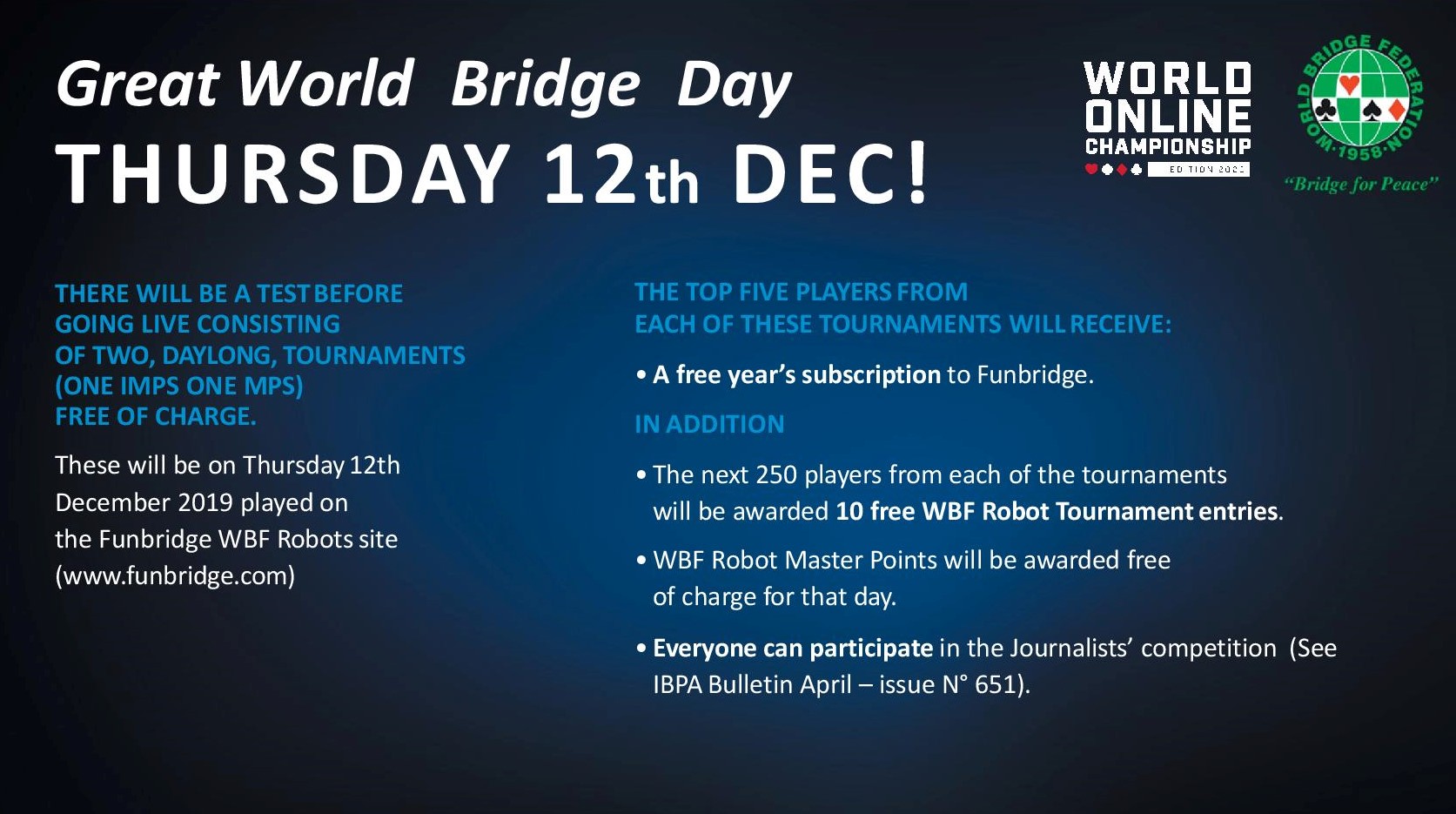 The actual event, starting in March, is a world first! The WOC will bring together online bridge players from all around the globe in a unique event. An exceptional total of USD 500,000 in cash prizes with USD 100,000 to the winner is offered, this makes it the highest prize ever seen in a bridge tournament! In addition, the winner(s) will be awarded titles of World Online Champion in their playing category. National and international Master Points and titles will also be allocated.
This competition is a unique opportunity for bridge players and is more evidence of how much BBO and Funbridge are committed to promoting and developing the game of bridge worldwide.
Click here to download the complete information sheet and learn how you can join in this fabulous Championship
Stay tuned, more news to come!