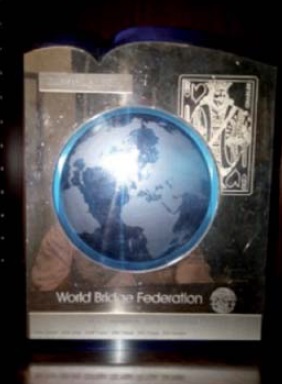 The José Damiani Cup corresponds to the World Youngsters teams championship. This competition is for players who must not have achieved their 20th birthday by 31st December of the year prior to the year in which the competition is to take place.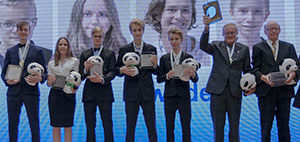 1. SWEDEN: Teo Bodin, Sanna Clementsson, Erik Hansson, Castor Mann, Alexander Sandin, Martin Loefgren npc, Lars Nilsson coach
2. ISRAEL: Ilai Ilan Baniri, Nir Khutorsky, Tomer Loonstein, Gal Matatyahou, Yonatan Sliwowicz, Aviv Zeitak, Danny Loonstein npc
3. FRANCE: Raphael Basler, Luc Bellicaud, Arthur Boulin, Melic Dufrene, Maxence Fragola, Theo Guillemin, Christophe Oursel npc.
A record of 22 Teams representing 5 Zonal Conferences participated in the Championship.
In the final Israel did fight back. In the penultimate set, they scored 34 imps and held Sweden to 1. Israel took an 8-point lead into the last set. That turned out to be very low-scoring. After 11 of the 14 boards, the score was 9-6 to Sweden. On board 12, Sanna Clementsson opened an 11-count and got to a thin four spades. A double-dummy defense would have beaten it, but understandably it made for 10 imps and victory for Sweden by 118 imps to 112. France took easily the bronze Medal beating Italy by 126 imps to 66.
To check all the information of this championship, please click here.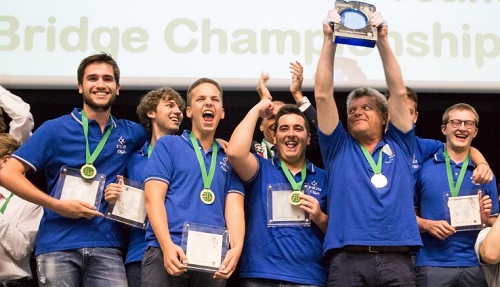 1. ITALY: Francesco Chiarandini, Alvaro Gaiotti, Gianmarco Giubilo, Andrea Manganella, Federico Porta, Sebastiano Scatà, Gianni Medugno (npc), Dario Attanasio (coach)
2. NETHERLANDS: Youp Caris, Pim Dupont, Oscar Nijssen, Sven Overvelde, Leen Stougie, Marc Stougie, Niek Brink npc, M. Schollaardt (coach)
3. HONG KONG: Chris T. H. Chan, Alfred Lam, Niko Man, Jackson Tsang, Sam Tseng, Michael Wu, Hing L. C. Lee (npc)
To check all the information of this championship, please click here.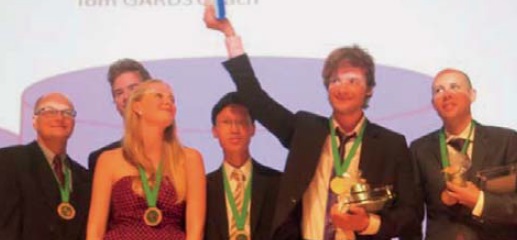 1. SWEDEN: Ida Gronkvist, Mikael Rimstedt, Ola Rimstedt, Johan Safsten, Per Leandersson (NPC), Tom Gards (Coach).
2. USA: Nolan Chang, Christopher Huber, Oren Kriegel, Benjamin Kristensen, Cole Spencer, Barry Goren (NPC), Phyllis Harris (Coach).
3. NORWAY: Christian Bakke, Espen Flaatt, Joakim Saether, Marcus Scheie, Lars Eide (NPC), Lars Arthur Johansen (Coach).
16 teams representing 5 WBF Zones attended the event. Sweden, with only four players, dominated the competition since the round robin and smoothly won the championship, reaching for the first time the José Damiani Trophy.
To check all the information of this championship, please click here.
1. POLAND: Michal Gulczynski, Wojciech Kazmierczak, Michal Klukowski, Igor Losiewicz, Andrzej Terszak, Lukasz Witkowski, Wlodzimierz Krysztofczyk (NPC), Stanislaw Golebiowski (Coach).
2. USA: Zachary Brescoll, Adam Grossack, Zachary Grossack, Andrew Jeng, Richard Jeng, Adam Kaplan, Tom Carmichael (NPC).
3. FRANCE: Julien Bernard, Ivan Cailliau, Fabrice Charignon, Baptiste Combescure, Gregoire Lafont, Christophe Oursel (NPC).
17 teams representing 5 WBF Zones attended the event. Poland with a completely renovated team retained the title, winning its third World Championship, defeating USA in the final.
To check all the information of this championship, please click here.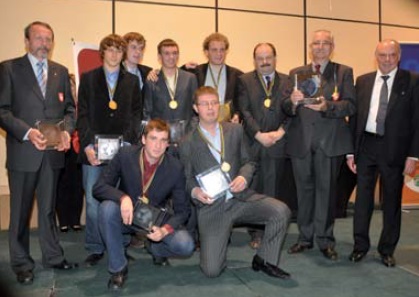 1. POLAND: Pawel Jassem, Tomasz Maciej Jochymski, Wojcieck Kazmierczak, Mateusz Mroczkowski, Adam Smieszkol, Piotr Tuczynski, Andrzej Biernacki (NPC).
2. ENGLAND: Daniel McIntosh, Thomas Paske, James Paul, Thomas Rainforth, Graeme Robertson, Shivam Shah, Alan Shillitoe (NPC).
3. THE NETHERLANDS: Rik van Leeuwen, Lotte Leufkens, Vincent Nab, Rens Philipsen, Thijs Verbeek, Ernst Wackwitz, Maarten Shollaardt (NPC).
16 teams, representing 5 Zonal Conferences attended the 4th edition of the Youngsters Teams Championship.
Poland after difficult time in the round robin played superb KO matches and won its second Ortiz-Patiño Trophy comfortably defeating France, Israel and England in the row.
To check all the information of this championship, please click here.
2008, Beijing – CHINA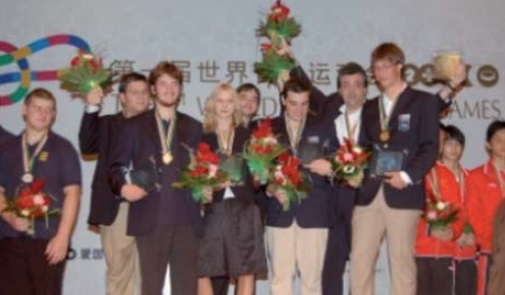 1. FRANCE: Marion Canonne, Pierre Franceschetti, Alexandre Kilani, Aymeric Lebatteux, Nicolas Lhuissier, Cedric Lorenzini, Christophe Oursel (NPC).
2. ENGLAND: Adam Hickman, Edward Jones, Daniel McIntosh, Robert Myers, Benjamin Paske, Thomas Paske, Michael Byrne (NPC), Alan Shillitoe (Coach).
3. CHINA: Simin Chen, Yichao Chen, Chunhui Dong, Junjie Hu, Yujie Jiang, Qi Song, Xueming Fu (NPC), Yixin Zheng (Coach).
The 3rd edition of the Youngsters event, thanks the generous support of IMSA, was attended by all the 18 teams entitled to participate, representing all the 8 Zonal Conferences – an absolute record. Beijing organised the event magnificently and welcomed hosted the contestants. England topped the Round Robin ahead of France, Chinese Taipei, China and Bulgaria. There was a desperate battle in the last round to settle the remaining three places in the knockouts, with USA, Norway and Netherlands making it through. England and France won their quarterfinals comfortably enough, while China won a close one against Norway; the semi-final lineup was completed by Bulgaria, where England and France achieved the right to play the final.
France taking the gold medal and England the silver. Meanwhile, China defeated Bulgaria in the play of third place.
To check all the information of this championship, please click here.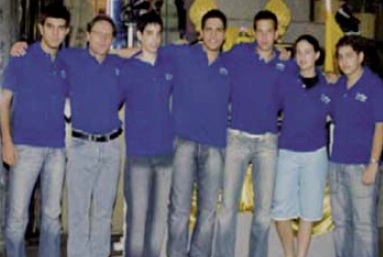 1. ISRAEL: Eliran Argelazi, Alon Birman, Dror Padon, Ron Segev, Dana Tal, Bar Tarnovski, Gadi Lebovits (NPC).
2. LATVIA: Jurijs Balasovs, Janis Bethers, Peteris Bethers, Andrians Imsa Martins Lorencs, Aivar Tihane (NPC).
3. POLAND: Piotr Butryn, Bartlomiej Igla, Artur Marek Machno, Maciej Sikora, Joanna Krawczyk, Artur Wasiak, Marek Markowski (NPC).
The Youngsters event, played for the first time within the World Youth Teams Championship, was contested by 16 teams from 15 countries and 5 Zonal Conferences, a remarkable improvement over the first edition when 6 teams from 5 countries and 2 zones took part. The first stage was a complete roundrobin to qualify the top four teams for the knockout stage. Israel took the lead on the second day of the round-robin and kept it without difficulty until the end. Poland and Latvia put up very strong performances and qualified to the knockouts together with Australia.
With one third of the round-robin still to be played, the four eventual qualifiers were already in place, but they were threatened by Norway and USA. At the end, Australia and Latvia finished in a tie for second place, while Poland secured the last qualifying spot, finishing just ahead of Norway and USA.
To check all the information of this championship, please click here.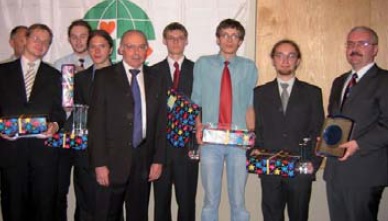 1. POLAND: Marcin Malesa, Piotr Nawrocki, Filip Niziol, Michal Nowosadzki, Przemyslaw Piotrowski, Jan Sikora, Leszek Nowak (NPC), Piotr Dybicz (Coach).
2. ISRAEL: Eliran Argelazi, Eran Assaraf, Alon Birman, Gilad Ofir, Amir Levin (NPC).
3. NORWAY: Petter Eide, Espen Lindqvist, Allan Livgard, Steffen Fredrik Simonsen, Sverre Johan Aal (NPC).
The first World Youngsters (previously schools) Team Championship for the José Damiani Trophy was held in New York in July 2004.
This, the inaugural event, had participation from just two of the WBF Zones, Europe and North America with six teams taking part.
To check all the information of this championship, please click here.