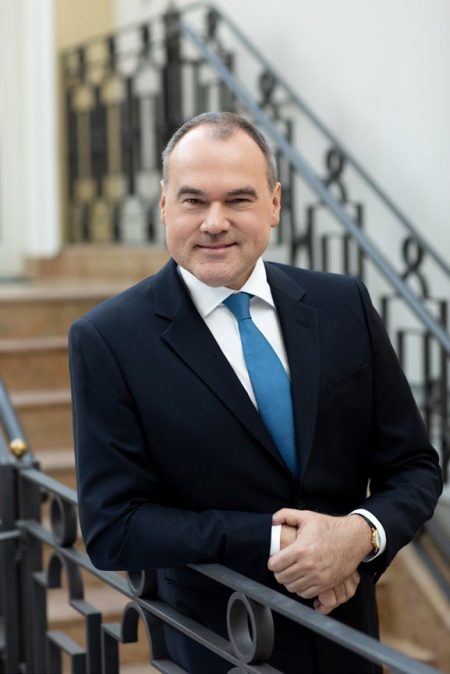 Igor Adam Chalupec was born on May 29, 1966 in Warsaw, where he still lives and works. He is a recognized financier, entrepreneur, active in the Polish economic sphere and social activist, with many years of managerial experience. Igor is an economist and lawyer by profession. He graduated from the Faculty of Foreign Trade at the Warsaw School of Economics and the Faculty of Law and Administration at the University of Warsaw.
He is the founder and owner of ICENTIS Capital Ltd. – the Mergers & Acquisitions advisory boutique.
The most important stages of his career include: being President of the Management Board of PKN ORLEN S.A., the Central European largest oil company (2004-2007). Before that Igor Chalupec held a position of Deputy Finance Minister (2003-2004). In the years 1995-2003 he was Deputy President of the Management Board of the second largest bank in Poland Bank Pekao S.A. In the years 2013-2018 Igor was President of the Board of RUCH S.A. He's been member of numerous supervisory boards in the Polish corporations.
Igor Chalupec is also active in various social initiatives. He is member of the Polish Business Roundtable, member of the Karpacz Economic Forum Programme Council (the so called Polish Davos). Moreover he is Deputy President of the Parish Council of the Holy Trinity Parish in Warsaw and Founder and Chairman of the Council of the Evangelical Educational Association Foundation.
Igor Chalupec has been active in the Polish and then international bridge since more than decade. He was elected Deputy President (Treasurer) of the PBU in 2021 for the third consecutive term. He is now the longest serving member of the PBU Board. Igor is known for his strong advocacy for transparency and taking active steps against cheating in bridge believing that only honesty and fair play make contract bridge a true sport discipline. He was Deputy President of Wrocław WBG Organizing Committee. He negotiated with the WBF hosting the World Bridge Series Championships (Rosenblum) in Wrocław in 2022.
In June 2018 in Ostend Igor was elected member of the Executive Council of the European Bridge League for term 2018-2022 and in January 2023 was appointed as a Zone 1 Delegate to the Executive Council of the World Bridge Federation.
Igor Chalupec is not only an official but knows contract bridge very well in practice as a bridge player. He's been playing bridge since his youth, recently actively as co-founder of Bridge24.pl Foundation. He plays in Bridge24.pl Mixed team along with Bartosz Chmurski (Igor's permanent bridge partner), Danuta Kazmucha (his partner in mixed tournaments) and Anna Sarniak. His team is playing in the Polish Premiere League. Igor participated in almost all European and World important bridge events of the last decade, including Bali, Sanya, Chennai, Wrocław, Ostende, Tromso, Montecatini, Monte Carlo and Poznań.
Mobile:  +48 691991276
e-mail:  igor.chalupec@icentiscapital.com