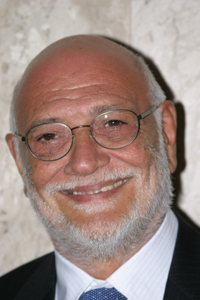 Gianarrigo Rona, from Pavia and living in Milano, Italy, was elected President of the WBF in September 2009 during the World Teams Championship held in São Paulo, Brazil.
His Presidency started in October 2010 at the end of the World Bridge Series held in Philadelphia, USA. In October 2013 in Nusa Dua, Bali, he was unanimously re-elected for a second four-year term. In August 2017 in Lyon, France, he was re-elected for a third four-year term which will thus run until 2022.
He had previously been 1st Vice-President of the WBF since his appointment in 2006 and was a member of the Executive Council since his first election in 1999.
He was President of the Italian Bridge Federation from 1986 to 2009 and President of the European Bridge League from 1999 to 2010.
He was made IBPA Personality of the Year in 2003, and awarded the EBL Gold Medal in 2010, when he was elected as EBL President Emeritus by acclamation. As WBF President, he is Chairman of the Management Committee.
He is a member of the WBF Honour Committee.
Mobile +39 329 560 9981 – Tel. +39 02 36704987 – Fax +39 02 36705962 – president@worldbridgefed.com – garona@worldbridgefed.com