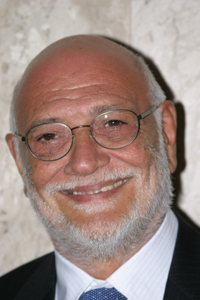 Gianarrigo Rona, from Pavia, Italy, was born in Rome on 18th November 1940 and currently lives in Pavia. A practising lawyer until 2002, for twenty years he was a Board Member of the Order of Lawyers and for eight years (1991-1999) Administrator and then (1998-1999) President Vicarious of the Italian National Lawyers' Pension Fund.
He was member of the Association of Lawyers of Italy and America.
Gianarrigo played basketball in the Italian First Division, was Member of the Technical Commission for the Italian Motorboat Federation (1982/83).
He was elected President of the WBF in September 2009 during the World Teams Championship held in São Paulo, Brazil. In October 2013 in Nusa Dua, Bali, he was unanimously re-elected for a second four-year term and in August 2017 in Lyon, France for a third four-year term which will thus run until 2022.
He led the WBF through 12 years, travelling extensively to develop excellent relationships with the member NBOs, building a strong financial foundation, embracing new technology and working closely with his colleagues to organise some truly memorable Championships.
Gianarrigo had to face many challenges during his time in office, including the pandemic and its devastating impact not only for bridge but for people everywhere. He had to contend with cheating scandals and, of course, the war in Ukraine. Through it all he was supported, not only by his colleagues on the Executive Council, the WBF Committees and his appointed staff, but also by his delightful wife, Cippi.
During his Presidency he was chairman of the Management Committee. He had previously been 1st Vice-President of the WBF since his appointment in 2006 and was a member of the Executive Council since his first election in 1999.
The WBF Congress in Wroclaw, August 2022, on the recommendation of the Executive Council, unanimously elected Gianarrigo Rona as WBF President Emeritus, starting from the end of his term as WBF President on 31st December 2022.
He was President of the Italian Bridge Federation – FIGB – from 1986 to 2009 (under his presidency in 2001 the FIGB was recognised by the Italian National Olympic Committee) and President of the European Bridge League from 1999 to 2010. He was elected as EBL President Emeritus in 2010 and awarded with the EBL Gold Medal. He was full member of the Italian National Olympic Committee National Council from 2001 to 2009 and from 2010 in is position of IF President is an invited not voting member. In 2001 he received from IOC President Juan Antonio Samaranch the IOC Golden Diploma and in 2006 he was awarded by CONI the Sportive Merit Gold Star. IBPA Personality of the Year in 2003, in 2004 was elected member of the WBF Committee of Honour and awarded the WBF Gold Pin. In 2007 the City of Salsomaggiore Terme, Italy, bestowing him the Honorary Citizenship, as well as the City of Opatija, Croatia in 2015. He is member of the Board of the International Mind Sports Federation ("IMSA").
In 2021 he was appointed as Auditor of ARISF (Association of the IOC Recognised International Federations).
Mobile +39 329 560 9981 – Tel. +39 02 36704987