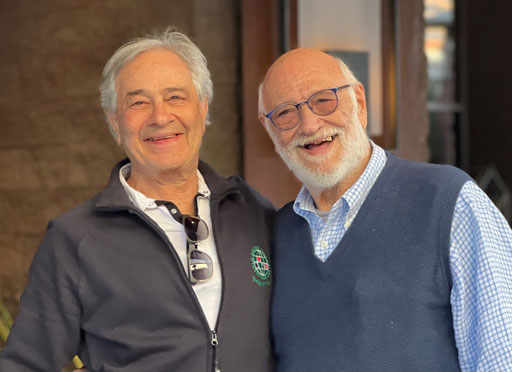 Happy New Year
By WBF In News On 28th December 2022
---
After twelve years in office, Gianarrigo Rona (pictured right) is stepping down as President, with Jan Kamras (left) taking up the challenge of the Presidency from 1st January.
Gianarrigo was elected President in 2009, taking over from the tour de force that was the Presidency of José Damiani. He has led the WBF through 12 years, travelling extensively to develop excellent relationships with the member NBOs, building a strong financial foundation, embracing new technology and working closely with his colleagues to organise some truly memorable Championships.
Gianarrigo has also had to face many challenges during his time in office, including the pandemic and its devastating impact not only for bridge but for people everywhere. He has had to contend with cheating scandals and, of course, the war in Ukraine. Through it all he has been supported, not only by his colleagues on the Executive Council, the WBF Committees and his appointed staff, but also by his delightful wife, Cippi.
It is unsurprising that he has been unanimously elected as President Emeritus, an office which he will take up on 1st January. We wish him time for relaxation with his family as he hands the baton to his successor, the new WBF President Jan Kamras.
Jan Kamras is no stranger to a Presidency, having been President of the EBL for four years from 2018.
Jan is greatly looking forward to the new challenge and leading the WBF onward with fresh ideas and exciting, interesting plans for the future, in close collaboration with the members of the Executive Council and the new Committees.
His plans will include a more focused approach to development and promotion of bridge, especially among the youth, by encouraging and supporting, financially and otherwise, local and regional projects in the NBOs and the Zones.
Among other things, Jan also intends to continue the active fight against cheating, increase efficiency and transparency in the organisation, update and modernise the WBF Statutes and other regulations, institute measures making it more attractive for NBOs to host WBF Championships and, at the same time, ensure that the WBF remains relevant in the eyes of the players.
The WBF would like to express its appreciation to  the many bridge players who support the organisation and without whom our efforts are worthless. We look forward to working with you in the coming months as we face the future together in 2023.
Happy New Year to you all !
---