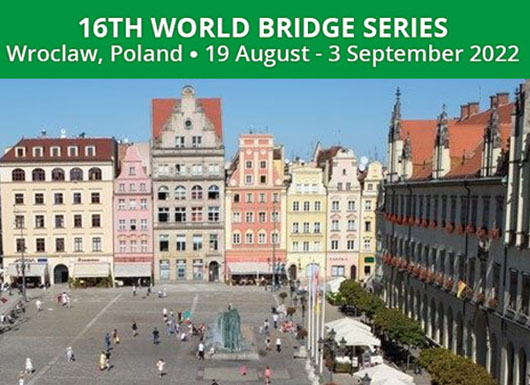 16th WORLD BRIDGE SERIES: The Winners
By WBF In News On 4th September 2022
---
Rosenblum Bowl
Gold: NICKELL: Eric Greco, Geoff Hampson, Ralph Katz, Bobby Levin, Nick Nickell, Steve Weinstein (USA), Jill Levin (NPC)
Silver: VENTIN: Joaquín Pacareu (CHI), Guy Mendes de Leon, Thibo Sprinkhuizen (NED), Antonio Palma (POR), Juan Carlos Ventín (ESP), Frederic Wrang (SWE)
Bronze: ROBINSON: David Gold (ENG), David Berkowitz, Daniel Korbel, Zia Mahmood, Jeff Meckstroth, Eric Robinson (USA)
and TEAM BLACK: Andrew Black, Gunnar Hallberg, Andrew McIntosh, Thomas Paske (ENG), Peter Bertheau, Simon Hult (SWE)
Gunnar Hallberg is a real veteran: he won two World Senior Teams titles in 2009 and '10, long before his team-mate Simon Hult won the World Junior Teams in 2018. Guy Mendes de Leon and Thibo Sprinkhuizen won bronze at those same championships.
Eric Greco and Geoff Hampson previously won the Rosenblum in 2014.
Several of the American players have won seven medals in their careers. Nick Nickell has nine already. Zia Mahmood is up to 13, Jeff Meckstroth already 14.
These are the first world medals in history for players from Chili and Portugal. Juan Carlos Ventín remains the only player registered in Spain to have medalled, having won bronze in the 2014 Rosenblum.
Daniel Korbel is a Canadian but he is now registered for the USA.
Open Pairs
Gold: Krzysztof Buras – Piotr Lutostański (POL)
Silver: Nabil Edgtton (AUS) – Michael Whibley (NZL)
Bronze: Geir Helgemo (NOR) – Fredrik Nyström (SWE)
The Final B was won by Victor Melman (USA) and Mirosław Miłaszewski (POL)
The first Side Event was won by Marek Kozłowski and Zbigniew Sosna (POL)
McConnell Cup
Gold: BRODY: Fischer Brigitta (HUN), Marion Michielsen, Cecilia Rimstedt, Sandra Rimstedt (SWE), Joan Brody (USA)
Silver: TRI POLAR: Nevena Senior, Nicola Smith (ENG), Kathrine Bertheau, Jessica Larsson (SWE), Disa Eythorsdottir, Janice Seamon-Molson (USA)
Bronze: BAKER: Sally Brock, Fiona Brown (ENG), Lynn Baker, Karen McCallum, Jill Meyers, Kerri Sanborn (USA)
and EDMONDS: Katarzyna Dufrat, Danuta Kazmucha, Anna Sarniak, Justyna Żmuda (POL), Jodi Edmonds, Irina Levitina (USA)
This is a veritable Who's Who of Women's Bridge. Together, these women have won 22 McConnell Cups, 21 Venice Cups and 8 Olympiads/Series. They have won a total of 168 World Championship medals. Nicola Smith is the most voracious of them with now 21 medals, Sally Brock has 17, Kerri Sanborn 16 and Jill Meyers 14. Karen McCallum joins the prestigious list of players with 10 medals or more, Irina Levitina and Janice Seamon-Molson (both 11) are already on that list.
Women Pairs
Gold: Jill Meyers – Kerri Sanborn (USA)
Silver: Sarah Bell (ENG) – Marie Eggeling (GER)
Bronze: Hjordis Eythorsdottir – Janice Seamon-Molson (USA)
Kerri Sanborn previously won the World Women Pairs in 1990 and 2002. This is her 17th world medal in all. Jill Meyers has also already won the World Women Pairs, in 1998. She has a total of 15 world medals. Janice Seamon-Molson has 12 medals. All four American women win a second medal at these championships.
Marie Eggeling won a bronze medal earlier this year in the Wuhan Cup.
There was no B-final, but non-qualified women were allowed to enter the "side event". Özlem Kandolu and Tuna Elmas (TUR) was the highest placed women's pair in that event.
Rand Cup
Gold: VYTAS: Wojciech Olański, Vytautas Vainikonis (LTU) Apolinary Kowalski, Michał Kwiecień, Jacek Romański, Włodzimierz Starkowski (POL)
Silver: GOODMAN: David Berkowitz, Andy Goodman, Mark Lair, Jeff Meckstroth, Mike Passell (USA)
Bronze: PENFOLD: Paul Hackett, John Holland, Alan Mould, Kay Preddy, Norman Selway, Brian Senior (ENG)
and ZIMMERMANN: Marc Bompis, Philippe Soulet (FRA), Krzysztof Martens (MON), Piotr Gawryś, Piotr Tuszyński (POL), Pierre Zimmermann (SUI), Fernando Piedra (NPC)
Włodzimierz Starkowski wins the Rand Cup in the same year as the D'Orsi Trophy (both for Senior teams).
Apolinary Kowalski and Krzysztof Martens both score their tenth medal in world championships. but they have never appeared on the same team. Kowalski's regular partner Jacek Romański has a medal less, because Kowalski has a gold medal in Mixed pairs. Jeff Meckstroth is already up to a tally of 15 world medals, Pierre Zimmermann to 11.
Senior Pairs
Gold: Piotr Bizoń – Marek Blat (POL)
Silver: Krzysztof Martens (MON) – Pierre Zimmermann (SUI)
Bronze: Jeff Meckstroth – David Berkowitz (USA)
Meckstroth, Zimmermann and Martens add yet another medal to their tally that already exceeds 10.
There was no Final B, eliminated pairs were allowed to play in the Side Event. The highest placed Senior pair in that event was Lech Ekert (POL) and Maciej Raczkiewicz (USA)
Mixed Teams
Gold: FERM: Christina Lund Madsen (DEN), Daniela von Arnim (GER), Simon de Wijs (NED), Sjoert Brink, Bas Drijver (SUI), Barbara Ferm (USA)
Silver: MINITER: Geir Helgemo (NOR), Sanna Clementsson, Jessica Larsson, Fredrik Nyström (SWE), Joe Grue, Gillian Miniter (USA)
Bronze: DONNER: Leslie Amoils (CAN), Per-Ola Cullin, Marion Michielsen, Cecilia Rimstedt (SWE), Kevin Dwyer, Sandra Rimstedt (USA), Gary Donner (NPC)
and CORIANDRE: Isabelle Bello, Aurélie Lorenzini, Cédric Lorenzini, Pierre Schmidt, Joanna Zochowska (FRA)
Geir Helgemo wins the 20th world medal of his career, becoming only the fifth player in history to achieve that total (after Belladonna, Hamman, Wolff and Smith). Daniela von Arnim now has 11 medals, Bas Drijver 10.
Mixed Pairs
Gold: Justyna Żmuda (POL) – Michał Klukowski (SUI)
Silver: Kārlis Rubins – Jelena Alfejeva (LAT)
Bronze: Sally Brock (ENG) – Chris Willenken (USA)
Klukowski and Żmuda are the second married couple to win the World Mixed Pairs, after Pam and Jon Wittes in 1986.
This is Latvia's second medal in world championships, after the U21 teams in 2006.
Sally Brock already has 18 medals, Michał Klukowski 10.
The Final B was won by Zhao Jinlong and Shimazaki Ayako (JPN)
The second Side Event was won by Sophia Bałdysz (POL) and Jacob Freeman (CAN)
---