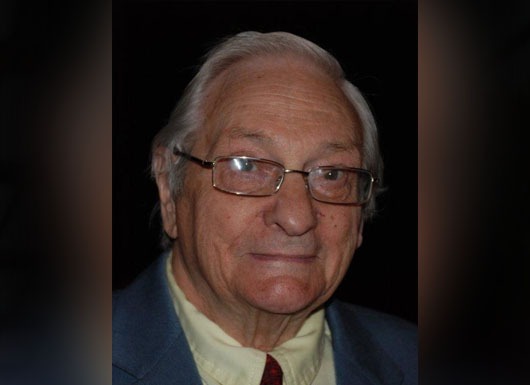 Grattan Endicott 1924 – 2021
By Anna Gudge In Archive, News, Tribute On 8th May 2021
---
The World Bridge Federation is saddened to hear that Grattan Endicott died peacefully on 25th April aged 97 years. He is described as loving father, grandfather, great grandfather and great great grandfather.
Grattan achieved a great deal in his long and varied life during the course of which he served as an interpreter in the Royal Navy, Dingli/Taranto/ Rome, during the war years 1941-1946.
He subsequently made a career as a top manager in the gambling industry and following retirement was appointed Secretary and CEO of the Foundation for Sports and the Arts which in his time there distributed some £785 millions to these activities. He retired from this position in 2004. During the time he was with Littlewoods Football Pools and was the organizer from its initiation of the Pools Panel which judged the results of postponed matches for football pool purposes.
He played rubber bridge at school and on return to civilian life moved to Liverpool and took up duplicate bridge in 1947, playing locally at first, then for the former North West Contract Bridge Association. His team of five, all possible partnerships playing identical systems, featured regularly in the final stages of national competitions in the late fifties and sixties. His English Grandmaster rank was achieved with points gained only in team play.
First appeared internationally as Captain of the British Ladies team in Sao Paulo. Within a year he had joined the WBF Laws Committee and quickly was appointed Edgar Kaplan's Vice Chairman, serving as such for a number of years until the committee was restructured upon Edgar's demise. He was simultaneously Chairman of the European Laws Committee and of the EBU Laws Committee. Subsequently he has served as Secretary of the WBF Laws Committee and on his retirement after three decades in office was elected Honorary Secretary to the Laws Committee in recognition of his enormous value to the Committee and its work.  Was Co-ordinator of the drafting committee for the 2007 code of laws. He served regularly for a number of years as Co-ordinator of Appeals Committees at WBF Championships. He was a Member of the EBL Executive for a term, and an Alternate Delegate for that period to the WBF Executive. Was the elected Treasurer of the English Bridge Union for a time.
Joint author of the EBL Commentary on the Laws of Duplicate Bridge 1987.
Invested in 1998 by Her Majesty Queen Elizabeth II  as an Officer of the Order of the British Empire in recognition of his work with the Foundation for Sports and the Arts.
In 2006 Grattan was awarded the WBF Gold Medal.
The WBF President and his colleagues, many of whom worked closely with Grattan over the years would like to send their condolences to his family and friends. His wisdom will be much missed.
---