"Faces of Bridge"
By Anna Gudge In News On 18th March 2021
---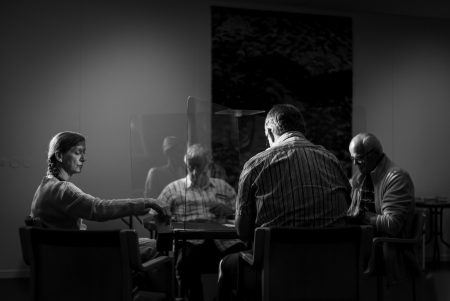 During the coronavirus spring of 2020, Henrik Hansson from Borlänge, Sweden took a series of pictures for SVT Dalarna's documentary article on how the corona restrictions affected people's everyday lives. The theme was "An unusual everyday life" to illustrate the effect the pandemic had on life in normal situations.
Now his pictures from a bridge match which he has called "Faces of Bridge"  have been nominated in the photo competition World Press Photo of the Year in the category Sports. This is a very prestigious competition, akin to the Oscars for movies, and to receive such a nomination is a truly great honour and recognition of the quality and resonance of the images.
In an interview for the SVT Dalarna, Henrik Hansson said:
This is absolutely fantastic. This is actually the world's largest photojournalism competition
It's a hard to get this into my mind actually. First you are a shy person from small Borlänge (city) and thinks this is a mistake. Then you find it wasn't. It was true.
 I took a series of 8 pictures that that I thought illustrate the pandemic in a different way within the world of sports. It shows how people want to meet in real life and spend time together but this virus is stopping us from doing so.
 Here they have solved it by Plexiglas screens so all can join around the same table.
 It was exciting as a photographer to be there, it is a form of sports reporting that was difficult to catch.
 There are no big gestures like in ice hockey, there are no crowds shouting nor balls going around. Here people are just sitting around a table, but the screens made it possible to get looks and faces to reflect and meet which made it exciting and different.
 I just hope that we will get on the right side of this pandemic so we can do more normal things again and even play bridge without plastic screens.
We would like to thank Henrik Hansson for allowing us to reproduce one of his pictures here – you can find the series of 8 photographs by clicking here, and we are sure you will agree that they are truly great photographs.
The Swedish article about the nomination can be found by clicking here. Hopefully your browser will allow you to translate it into your own language or into English
---