Keep Bridge Alive Pro – Am Pairs
By Anna Gudge In Archive, News On 5th March 2020
---
On Thursday 20th February many passionate players, pros, journalists and Presidents of Bridge Federations, including the WBF President Gianarrigo Rona and the EBL President Jan Kamras, met in London to attend the 'Keep Bridge Alive Pro-Am Pairs tournament' organised by Prof. Samantha Punch.
Professor Punch works in the Faculty of Social Sciences at the University of Stirling (Scotland). She loves Bridge and knows the benefits that come from playing it, thus one of her goals is to help the development of our sport by providing scientific evidence.
In February 2019 she launched the 'Keep Bridge Alive' campaign which consists in publicising the benefits of Bridge beyond the Bridge world. Performing academic research about Bridge is instrumental in producing scientific findings that can be used in collaboration with Bridge organisations to transform the image of Bridge, increase participation and enhance the sustainability of the mind-sport.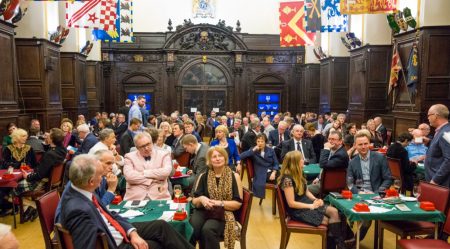 The 'Keep Bridge Alive Pro-Am Pairs' tournament was a win/win event: by supporting the academic project, Bridge enthusiasts had the amazing opportunity to play in partnership with their favourite champions. More than 40 experts from Bulgaria, Denmark, Germany, Ireland, Norway, UK and USA were available to be picked as partners by the highest bidder through an online auction that opened in November and ended a couple of weeks before the tournament. Furthermore, players had the opportunity to sponsor a junior to play.
The event was marvelously organised: Professor Punch and her staff provided an unforgettable experience to all the supporters of the project. The setting was the Stationers' Hall, close to St Paul's, a magnificent, historic space in London. Professor Punch had been looking for a new name for the project and during the drink reception revealed her choice. From now on, the 'Keep Bridge Alive' project will be named 'Bridge – A MindSport for All' (BAMSA).
The drinks reception was opened by the Bridge star Zia Mahmood and was followed by an excellent buffet dinner.
The TV star and poker champion Victoria Coren Mitchell was a special guest of the event; she was available to answer the questions of the audience and she also played in the tournament.
The winners were Ed Jones and Richard Bowley (63.69%), followed by Jamie Fegarty & David Kendrick (61,07%) and Phil King & Malcolm Guy (60,45%).
But, of course, at the Stationers' Hall the winner is Bridge! The money raised from this evening will be invested in paying the researchers who work on the project, developing accessible resources and disseminating the research.
---