APBF 60th Anniversary
Michael Bambang Hartono awarded with the WBF Gold Medal
By Anna Gudge In Archive, News On 29th May 2017
---
The WBF President Gianarrigo Rona, kindly invited by the APBF President Esther Sophonpanich attended, on Sunday 28th May, the General Meeting of the Asian Pacific Bridge Federation, reporting about the activity of the WBF and the future events. Mr. Rona renovated his congratulation to M.me Chen Zelan for her election at the Presidency of the International Mind Sport Association.
The General Meeting was followed by the Opening Ceremony of the 51st  APBF Championships and 21st  APBF Youth Championships where the player were welcome by an original very nice ice-poster.

The Ceremony started with speeches from Mrs.Yoon Kyung Kim, KCBL President, Gianarrigo Rona, WBF President and Mrs. Esther Sophonpanich, who declared open the Championship. All the speakers remarked that this year the Championship is particularly significant since it celebrates the 60th Anniversary of APBF, which first started in Manila in 1957 as Far East Bridge Federation.
President Rona awarded the APBF with the WBF Plaque delivered to Mrs. Sophonpanich.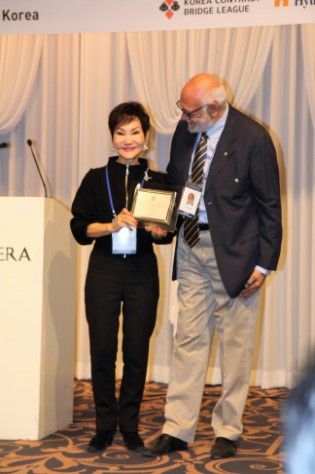 In his speech President Rona remarked the admission of Bridge at the 2018 Asian Olympic Games and awarded Mr. Bambang Hartono with the WBF Gold Medal.
Rona said: "This night, this occasion, gives to me the opportunity to remark another extraordinary event, the admission of Bridge at the 2018 Asian Olympic Games. I want to express once again our gratitude to the Indonesian Bridge Federation, the Indonesian Olympic Committee for the excellent job done and to Sheik Al Sabah, President of the Olympic Committee of Asia, that we met in Kuwait, together  with our friend Numan Al Turki. Sheik Al Sabah gave us a great help in supporting the admission of Bridge in the final ballot. But there is a man who with his enthusiasm, dedication and strong believing, with his terrific job, gave to us the chance to open this window and to reach our dream.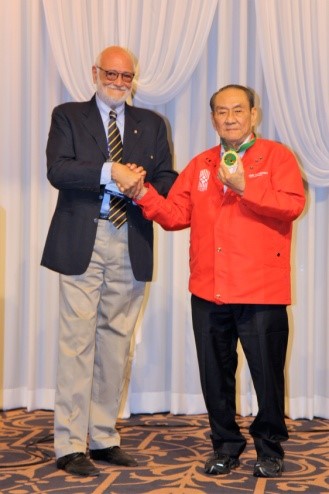 I believe that without him this extraordinary opportunity could not be materialized. This man is our great friend Bambang Hartono who is here with us today and he deserves our standing applause. I am very proud, on behalf of the WBF, of the entire bridge community everywhere in the world and personally to award him with WBF Gold Medal".
After the speeches the Ceremony continued with the presentation of the 62 teams, representing 16 NBOs, attending the championship. The Ceremony was followed by a Welcome Dinner offered by the Korean Contract Bridge League.
---