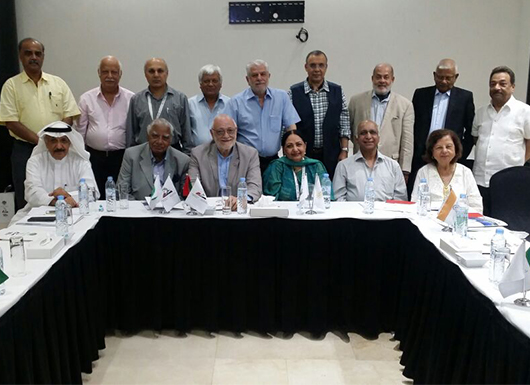 WBF President meets the Representatives of BFAME in Dubai
By Anna Gudge In Archive, News On 12th April 2017
---
On the occasion of the BFAME Championship in Dubai, on Sunday 9th April, the WBF President Gianarrigo Rona, together with the Vice President Mazhar Jafri met the Chairman of the LOC Ahmad Mohamed Al Midfa and the Zonal Officers: President Ashok Goel, Vice Presidents Bahjat Majali, Azwerul Haque and the representatives of the affiliated NBOs.
It was a very profitable meeting where several issues were discussed and President Rona thanked the LOC and the entire Zone for the very successful championship and for the great job done by the Zone together with APBF and the Indonesian Federation to achieve the goal to be admitted to the 2018 Asian Olympic Games in Jakarta, Indonesia. The President congratulated also the NBOs for the excellent job made in developing youth bridge, being confident that an important delegation will join the Lyon World Championship.
Before this meeting President Rona met and addressed the members of the BFAME Women's Committee, where the memory of Anna Maria Torlontano was honored.
In the evening of Tuesday 11th April, President Rona made a speech at the Closing Ceremony of the event, congratulating the teams qualified to Lyon ( India and Bangladesh for the Bermuda Bowl, Jordan and India for the Venice Cup and India and Pakistan for the d'Orsi Trophy) and awarded the winners with medals and trophies. Mr. Ahmad Mohamed Al Midfa thanked the President for his attendance and awarded him with a special honor trophy.
---