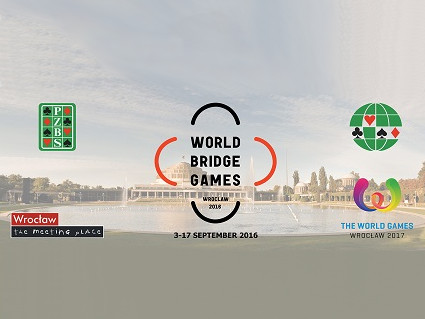 Open & Women's Pairs Ruling
By Anna Gudge In Archive, News On 29th September 2016
---
Open and Women's Pairs Championship
statement from the WBF President
The WBF Executive Council has deliberated in respect of occurrences at the World Bridge Games held in Wroclaw during the Finals of both the Open and Women's Pairs Championships.
Having read the reports from the Head Tournament Director and the Championship Operations Director, the Council has become apprised of the unusual situation whereby the players and supposed winners recognize themselves that they failed to adequately check the scores obtained within the time scale provided for within the Conditions of Contest. Those players, rather than raise the issues through official channels, chose to air their grievances via social network sites.
Human errors, whether by competitors, referees, judges or otherwise are an integral part of any sport competition. In all sporting contests it is important to have certainty of the result that has been obtained according to the respective rules & regulations that are applied and cannot be modified despite, unfortunately, that they may have influenced the result. Dura lex sed lex – the law is harsh but it is the law.
However, the Executive Council has considered the peculiarity of the circumstances and facts of these particular cases and has expressed its view that the truth cannot and should not be ignored.
Consequent upon the advice received from the High Level Players Commission, the Executive Council has exceptionally resolved to award the titles, the gold medals and the master-points ex aequo to Auken-Welland (Germany) & Bach-Cornell (New Zealand) in the Open and to Levi-Asulin (Israel) & Pilipovic-Sver (Croatia) in the Women, without further alteration of the ranking lists.
The Executive Council therefore remits the same to the WBF Secretariat to provide the necessary executions and related communications as appropriate.
Lausanne, 29 September 2016
Gianarrigo Rona
President
---