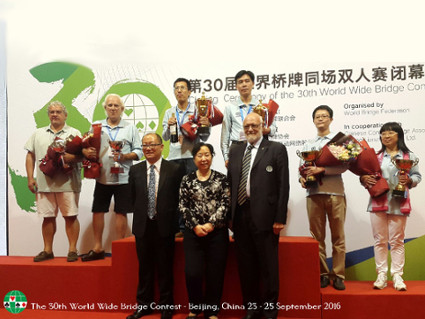 WWBC Winning Pairs
By Anna Gudge In News On 1st September 2016
---
The 30th World Wide Bridge Contest

Organized by the WBF in cooperation with CCBA & OurGame
The qualifying heats of 2016 World Wide Bridge Contest were staged over six days, two in April, two in May and two in June in order to qualify 13 pairs for the Final to be held in Beijing, China from 23rd – 25th September, joining 7 pairs qualified from online bridge events in China.
The 2016 World Wide Contest final was played in Beijing China. The final was played using BBO / OurGame software with 19 rounds being played each day.
The winning pairs were:
1st You Yiping & Li Huagai (China)
2nd Carlos Luiz & Miguel Teixeira (Portugal)
3rd Zhang Miao & Zhang Xiaoqun (China)
Results from Day 1
Results from Day 2
Pictures from the event can be found on our Facebook page and here on our Photostream
Pairs participating in the final received B&B accommodation in double room, with free in-room Internet access offered by the Organization Committee. In addition the Organization Committee will provide each overseas player with US$1600 as subsidies for the round transportation expenses.
The final had a prize fund of US$ 20,000
The 13 winning pairs will be selected as follows:
the winning pair from each of the six simultaneous pairs events, then
The winners from each Continent not having won an individual session PROVIDED they have scored over 55% then
The highest scoring pairs in 2nd place in any session to complete the required number of pairs in the final provided they are not already eligible as a result of being a winner of one of the six tournaments or a "continental" winner.
The Continents recognised by the WBF are the 5 Continents of the Olympic Rings: Africa, America, Asia, Europe and Oceania
The winning pairs from the Online heats were:
Zhang Ligang & Wei Ganghua
Zhang Miao & Zhang Xiaoqun
Zhao Yan & Li Ruihua
Jing Yaping & Li Leqing
Gu Yuanyan & Liu Hua
Yang Xiaodong & Huang Lu
You Yiping & Li Huagai
The winning pairs from each session were:
Set 1 : Papadakis N & Akasiadis I (Oamxn, Greece)
Set 2 : Luwen Koh & Wen Yuan Tan (Singapore CBA, Singapore)
Set 3 : A S Gupta & Uttam Gupta (Ksba, India)
Set 4 : Evaggelos Fotopoulos & Georgios Hatzikonstandis (Piraeus bridge club, Greece)
Set 5 : Sighinolfi Francesco & Saccomani Massimo (Portland Club, Italy)
Set 6 : Carlos Luiz & Miguel Teixeira (FPB 400 Associação de Bridge da Madeira, Portugal)
Represented continents: Europe and Asia
The highest placed pairs from the other three continents, namely Africa, America and Oceania are the next pairs invited:
AFRICA : BELLAZREG Wissem & MESTIRI Anas (Sheraton Bridge Club, Tunisia) from Set 6 (73.50%)
AMERICA : Paul Benedict & Lynn Jones (Bridge Club Of Baltimore, USA) also set 6 (71.90%)
OCEANIA : Sue & Gary Hollands, (SA Bridge Assoc Purple, Australia) Set 4 (67&) replacing Jane Sharley & Bette Backhouse who were unable to accept the invitation
Finally the four highest scoring second placed pairs will be invited to the final:
From set 1 : Kimiko Endo & Alan Sia (The Japanese Association_ SG, Singapore) 70.01%
From set 2 : Joan Jaggard & Keith Jaggard (Stansfield, England) 71.82%
From set 3 : Anthea De Alwis & Asoka Jayasinghe (Vajira Bridge Center, Sri Lanka) 68.51%
From set 5 : Fiore Andrea & Censi Roberta (Bridge Latina, Italy) 72.01%
---