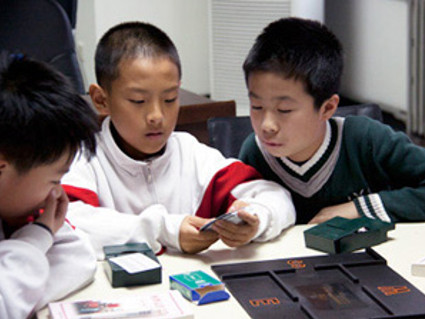 WBF Officials impressed by bridge development in China
By Anna Gudge In News On 20th December 2013
---
IMSA and WBF officials had the opportunity to visit one of China's most prominent schools where bridge is taught extracurricularly with great success.
International Mind Sports Association (IMSA) President José Damiani and World Bridge Federation (WBF) President Gianarrigo Rona headed a group of dis­tin­guish­ed guests for a visit to RDFZ, the High School Af­fil­i­at­ed to Renmin University of China. This is a most ex­clu­sive educational institution for about 4,000 boys and girls 13-18 years old.
During the visit, WBF officials José Damiani, Gianarrigo Rona, Patrick Choy and Chen Zelan presented the winners of a recent in-school competition with their prizes, and expert teacher Philippe Cronier of France conducted a class of mini bridge for some 50 very young bridge beginners. Several bridge deals were then played, with WBF officials taking part in the competition together with RDFZ pupils.
---