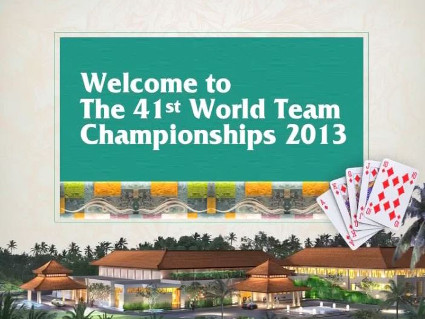 41st World Bridge Teams Championships
By Anna Gudge In News On 30th September 2013
---
Nusa Dua, Bali, Indonesia
It is over! Italy has won the Bermuda Bowl, USA 2 the Venice Cup. Following a hearing, USA 2 were awarded the Gold medal in the d'Orsi Senior Trophy. The Gordon team won the Transnational Open Teams.
Congratulations to all the winners … but indeed to all participants who have played in, and surely enjoyed, this great event.
It is the end of a great Championship, and we must thank our wonderful Indonesian hosts for the warmth of their hospitality, their kindness, their organisation. 2013 Bali will, without doubt, go down in the history of bridge as one of the great Championships.
As well as the Daily Bulletins, published a number of online Articles and Interviews as well as photographs to the Photo Gallery.  All the informaiton from the event can be found through the links below:
---