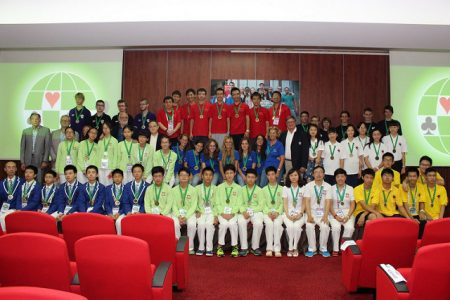 The 2015 Youth Open Bridge Championships, were held in Opatija (Croatia), which is proving an excellent and very populare venue.Yet another categroy was introduced, the Kids event and was a resounding success. 13 pairs took part in the first Kids Teams event.

1. SX HYSW: Yingqi Wang, Tianle Yao, Siyuan Liu, Renyu Li, Yijun Shang, Yiqin Shao, Wen Cao (NPC), Lin Lin (Coach).
2. CHINA RDFZ1: Zixi Cai, Yuanzhe Ding, Randy Pan, Baozhuo Jiang, Shi Qiu, Haoqing Yu, Jichao Hu (NCP), Tong Jiang (Coach).
3. SX XNWY: Yihong Liu, Wenjie Xue, Ruizhe Wang, Hanyang Dai, Jiaxin Tong, Tiancheng Zhang, Qiwei Li (NPC), Hui Fu (Coach).